By Mimi Lau, South China Morning Post, October 2, 2020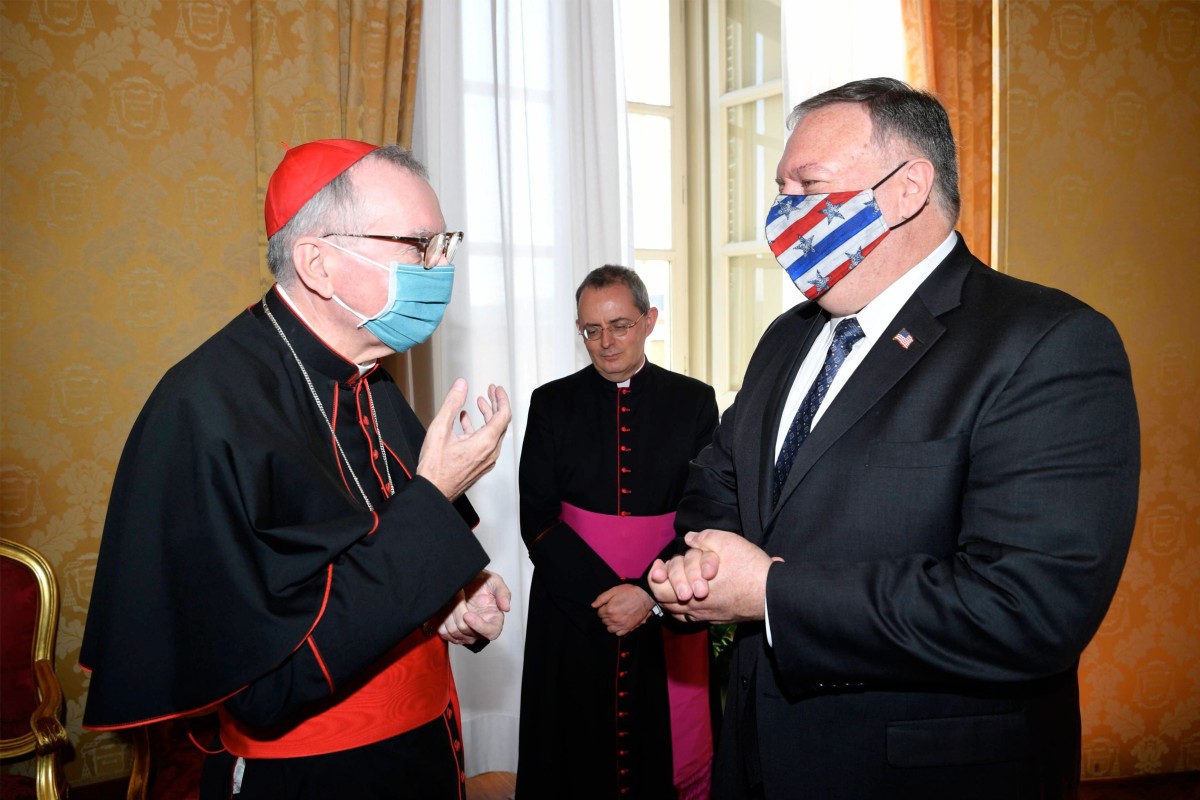 The Vatican has clashed with the United States over China as the Catholic Church continues its efforts to renew a controversial deal with Beijing over the appointment of bishops, which is set to expire at the end of the month.
The Holy See has dismissed concerns from critics, including the US, and said it is a necessary move to improve religious freedom despite the lack of progress made in the past two years.Pope Francis cancelled a meeting with US Secretary of State Mike Pompeo during his two-day visit to Rome to avoid political favouritism ahead of the US presidential election.
During his visit, Pompeo called on the Vatican to take a harsher stance against China religious and human rights oppressions.
On Thursday, Pompeo met his counterpart, Cardinal Pietro Parolin, and the secretary for relations with states, Archbishop Paul Gallagher, to discuss their disagreements over China and other international conflicts in a 45-minute meeting, according to Vatican News.
"We had a constructive discussion," Pompeo said after the meeting. "We have a shared objective. The Chinese Communist Party is behaving in ways that are reminiscent of what's only happened in centuries past in terms of human rights violations. We've watched them oppress not only Muslim Uygurs but Christians, Catholics, Falun Gong, people of all faiths."
But Vatican spokesman Matteo Bruni said that during the meeting, both sides "presented their respective positions" about China in a climate of "respect, openness and cordiality".
Pompeo also spoke during a conference on religious freedom organised by the US embassy to the Holy See, where he told an audience that included top Vatican officials that "nowhere is religious freedom under assault more than in China".
He also accused the Communist Party of working "day and night to snuff out the lamp of freedom, especially religious freedom, on a horrifying scale".
Cardinal Parolin was reported to have told journalists on the sidelines of the conference that the Holy See was "surprised" by Pompeo's article last month in a US religious journal suggesting the Vatican had compromised its moral authority by signing the 2018 provisional bishop agreement with Beijing.
Details of the accord that was reached two years ago have never been made public.Pope Francis has faced growing pressure over relations with Beijing, with critics highlighting the pontiff's silence over China's crackdowns on religion, including its treatment of Muslim ethnic minorities in the Xinjiang region, apparently to avoid angering Beijing.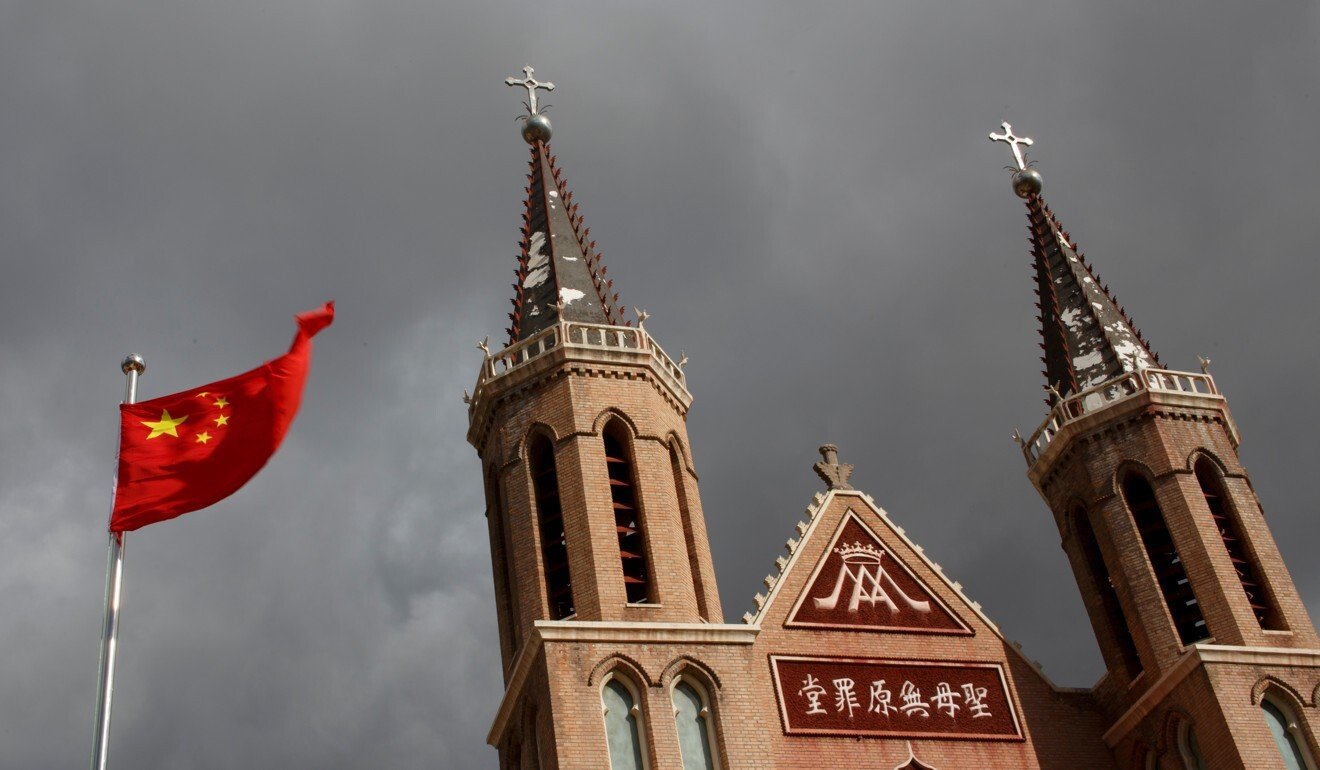 Many Chinese Catholics worship in state-sanctioned churches. Photo: Reuters
Reverend Professor Lo Lung-kwong, a research fellow with Chinese University of Hong Kong's school of divinity, said China found that each side had something to offer the other at a time of growing international pressure over Beijing's human rights record.
"This lets China see room for further negotiations with the Vatican. So even if the friendship may not result in a fundamental improvement in China's religious affairs policies, at least it will not trigger a further tightening for Chinese Catholic communities," Lo said.
Francesco Sisci, an Italian sinologist at Renmin University, said Pompeo's failed attempt to convince Rome to step up the pressure on Beijing had "backfired".
"After Pompeo's challenge over the Pope's moral authority in his article, it has actually created a stronger support base for the Pope about the agreement with China among the US Catholic community," Sisci said.
"As it was seen as an attempt to divide the unity of the church and his attempt has backfired, in a way.
"After all that the Vatican has fought for its relationship with China."
Sisci said Beijing would be under greater pressure to deliver "concrete results" in honouring the agreement by electing more bishops for Chinese Catholic dioceses.
In July, sources told the South China Morning Post that in the two years since the agreement was signed no new heads had been chosen for the 52 dioceses without bishops.
The Vatican sees maintaining the deal with Beijing as a way to heal a rift from the 1940s when Beijing kicked the church out of China and later started an autonomous Catholic church, independent of Rome.
This schism directly affects around 12 million Catholics in China, who are divided into a so-called underground church that looks to the Pope for authority, while others attend Sunday mass in state-run churches controlled by Beijing's Chinese Patriotic Catholic Association.
Pope Francis has also faced criticism from within the Catholic Church – including senior cardinals – for sharing authority with a communist state under the agreement, including accusations of "selling out" the underground clergy in China, many of whom served jail terms for remaining loyal to Rome.
Additional reporting by Associated Press
This article appeared in the South China Morning Post print edition as: Vatican brushes off Washington's objections to bishops deal with Beijing